Testimonials 5
This is the FIFTH testimonial page for Bruce's Healthy Dog Treats
I am very grateful to the following people and their dogs for ordering & enjoying Bruce's Healthy Dog Treats. These are the direct QUOTES that they have sent me. What great looking dogs! Thank you, Bruce Dwyer & Archie
Kit Y., West Ryde NSW
A message from my dog: 'I love it! It tastes yummy and makes my tail wag each time I hear my human touch the packet!! Its so healthy and good quality!!' Haha, absolute best treats yet. And Australian owned too? Hell yea. The quality is top tier, don't think anywhere else would beat it! Bruce's Healthy Dog Treats really know what a dog needs in terms of nutrition. 100/10, definitely would recommend!
Kind regards,    Kit
Espie M., Newport VIC & Lovely Gucci  DOG
My frenchie Gucci went crazy with the Kangaroo Tendons flat! He loved it without a doubt.
It's perfect for a very active puppy because that kept him busy. The portions and the packing is fair for the price. I would give it 5  out of 5 paws!
Bruce thanks Espie & Gucci for this great GUCCI DOG VIDEO !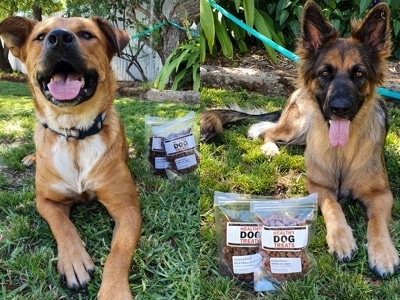 Brianna T., Coolamon NSW. 
We have a pair of very happy doggo's here today. They're absolutely loving the treats!
Carmen G., Hillside VIC & BUDDY Super dog !
Hi Bruce,   Received your treats today, thank you for the quick delivery.
I gave my dog Buddy one of the cow hooves filled with mince – to say it was a success is an under statement.  He took outside and it kept him entertained or quite sometime.  If the other treats are received half as well you will definitely have a returning customer!!!    Tried to take some photos but Buddy wouldn't pose too busy enjoying his treat!!!
Lorraine H., & Wonder dog COCO !  Noarlunga SA
Hi Bruce,
The parcel has arrived and has been welcomed by Coco.
Many thanks from all of us.   Lorraine
John P., Salt Creek SA. 
(My Dog) .. Lovin his 1st time ever cow hoof !
Chris R., Hove SA. SUPER DOGS = Robbie and Frankie
Robbie and Frankie waiting to try their new treats. So excited. Thank you so much.
Chris (human)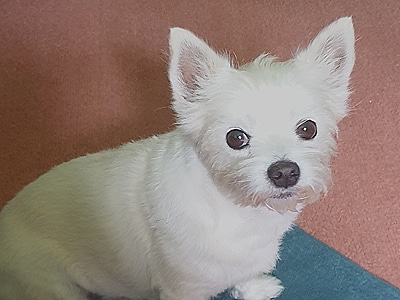 SUZI V., BUNDOORA VIC. SUPERDOG = ASTRO
Thank you Bruce, quality is fantastic.
Will order again soon – got yr order today.
SUZI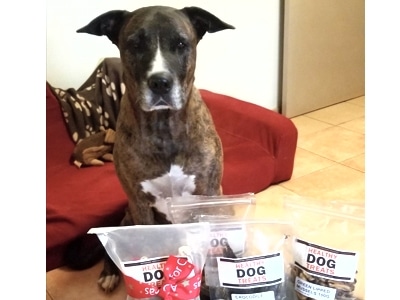 Haley G., BROOME WA. SUPERDOG = CHUCK
Thanks so much for your amazing customer service!
Chuck loves every single one of your treats he has tried so much that he finds it hard to choose where to start.
We highly recommend you guys to anyone wanting to try something new and nutritious for their four legged fur babies.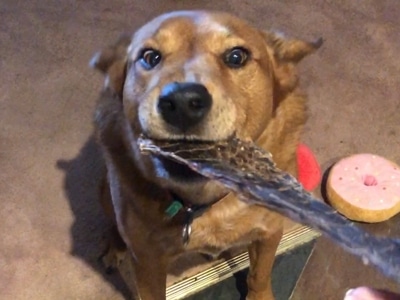 Linda M., KURUNJANG VIC,  SUPERDOG = Jake
Our delivery of beef and roo jerky arrived today thank you. Our dogs followed me from the front door to the kitchen eagerly awaiting a treat.
I'm always conscious to provide healthy and natural treats for our dogs, and they just love them.
Here is Jake with his roo jerky. Regards  Linda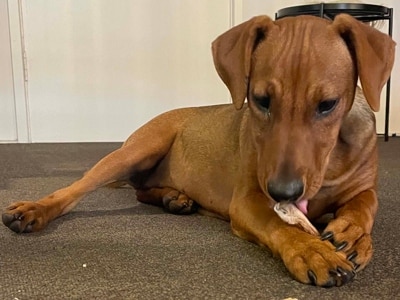 Vanja P., ST KILDA EAST, VIC.  SUPERDOG = Snax 
Here are some pictures of Snax enjoying her Shark Cartilage and Kangaroo Tendon 🙂
She absolutely LOVES these treats and they're perfect to take with us when we're heading out for a meal as she is completely preoccupied by it – she literally does not want to do anything else other than eat your delicious, healthy treats! The shark skin rolls are also great because they take her a little longer for her to get through.
Once she gets through all these, I will definitely be back for more! Thanks and take care,  Vanja
Karin S.,  Girrawheen WA. SUPERDOGS DESI and ANNI
Here are two photos of Desi (left) and Anni (right).
Desi and Anni have been eating your treats since 2018. Two satisfied customers, who love your products. The quality is always consistent and excellent. We won't buy anywhere else.
Thank you.  Karin
Carrie M., Karratha WA.  Super dog = Blossom !
Blossom loves her new treats …
Jay B., Wongaling Beach QLD and super dogs
Our delivery arrived today and was a big hit. I am travelling for 6 + months in my caravan and couldn't  bring my dehydrator so was so happy to find your company.
Delivery was quick and everything looks great. Bo has already devoured the roo stick you sent as an extra! Thanks again.
Regards  Jay
Susy C., Seaholme VIC
Taysha loves all things kangaroo  especially her roo tendons, roo ribcage and also pig snouts
Today we are trying the kangaroo and chicken bites and the sample pack.
She is already on her mat waiting excitedly for me to open the pouches.  Thx for the great selection, speedy mail and reasonable postage cost.