Testimonials 3
This is the Third Testimonial page for Bruce's Healthy Dog Treats
I am very grateful to the following people and their dogs for ordering & enjoying Bruce's Healthy Dog Treats. These are the direct QUOTES that they have sent me. What great looking dogs! Thank you, Bruce Dwyer & Archie
CHANTEL O., SWANBOURNE WA  DOG = SASKIA
Hi Bruce  –   Kangaroo jerky received with thanks and a very happy puppy!??
PS: Sass, 9month Rhodesian Ridgeback girl  …  favorite treat ever BRUCES KANGAROO LONG JERKY ???
Best  –  Chantel + Saskia ??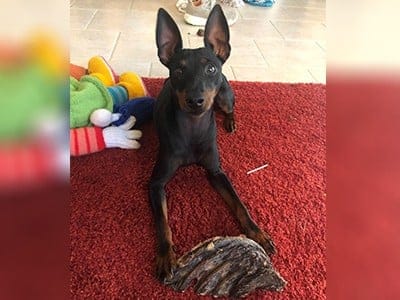 Kelly A., Gladesville NSW  DOG = Tyson!
Here is tyson with some kangaroo ribs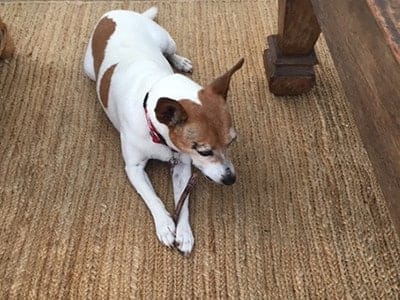 Susan R., Church Point  NSW./  DOG = Sadie  
Hi Bruce
Thank you for the quick shipping. Sadie needed to de-stress after the holidays, and the bully sticks really help. From the size of the package she will be supplied for quite a while.
We will be ordering again when she works her way through 1 kg.   Cheers    Sadie's personal assistant.
Michael T., Murrumba Downs QLD.  DOG = Hana 
Hello there,
Hana is thrilled with her Christmas present. (More thrilled when I actually opened the packet of Kangaroo Meatballs.)
Karen P., Templestowe VIC.  DOG = Keira
Hi Bruce
Keira was waiting very patiently for me to open the bag. Couldn't wait till Christmas though.
Thanks Karen.
Linda B., Reservoir VIC. DOG = Kuparr 
Told you we would be back.
Kuparr is super excited about his stocking fillers (for Christmas 2018).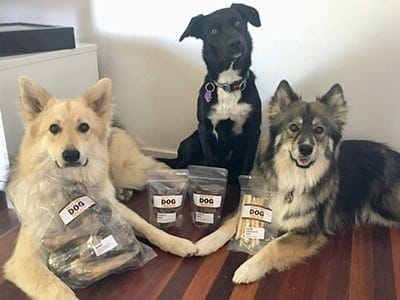 Courtney D., Townsville QLD.  DOGS = Pepper, Archer & Marley
Pepper, Archer & Marley have received 2 of Bruce's Healthy Dog Treats orders now and they can tell the package is for them as soon as I walk in the door with it!
They get so excited to munch on all their goodies. I don't think they have a favourite, they love it all!
Paul C., Lidcombe NSW 
Great team response , quick delivery with free Roo stick and overall great product.
Sylvia O., SOUTH HOBART, TAS. 
I have taken a photo of my two small poodles (girls) – 5kg and 7kg.  Its a wet day here so I've kept them busy with chewing time with the kangaroo tendons. The youngest of 11 months old is a real land shark for such a small cute ball of fluff. Never had a dog like it.
She has demolished so many things including the insides of my husbands steel capped boots.  (The Tendons are a much healthier Option – Bruce)
Cathy E., Clayfield  QLD
Hi Bruce, Jazzy Doodie is a " poodle princess" type oodle who doesn't like some processed treats and kibbles.
She tried her first roo tendon today and enjoyed it. Here she is checking out the bag.
Cheers Cathy
Emily C., Queanbeyan West NSW
I'm so glad we found this website – I've been doing a lot of training with my dog Ripley and I've finally found somewhere I can get her favourite treats in bulk.
Your prices are great and delivery was quick. I will definitely be placing many more orders! Here's a picture of Ripley with her treats (the roo stick was gone before I even got my camera out).
Thanks!!   Emily
Michael C., Hoppers Crossing VIC
Mollie certainly seems to enjoy her Healthy Dog  Treats shark cartilage.
The order arrived within a couple of days and she's had one everyday since.
Mick, Hoppers Crossing
Linda B., Reservoir VIC 
Kuparr the Shetland Sheepdog (Sheltie) received his croc hind leg bones today and he loved them.
He said, his mama will be back to buy some more, wonderful and weird dog treats in the near future. BTW the oder was placed and received in record pace. Thank you fastway too.
Cheers Linda and Kuparr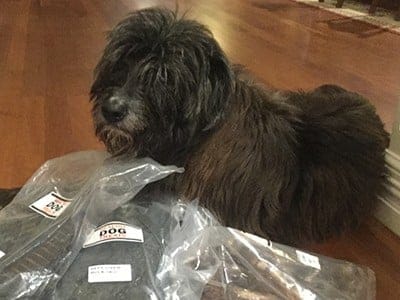 Kari E., Eden  NSW
Hi Bruce!
We ordered 2kg of Liver Treats for our dog Alva who is terminally ill. Well – he is making a pretty remarkable recovery! You wouldn't know he was so sick and I think the liver treats (and a bit of cortisone) are the cure!
All of our children are coming home next week from 1000's of km and really wanted him to still be around. They are delighted they will get to see him before he goes. Thanks for a great product and great service!
Reggie L., Canning Vale  WA
Thanks Bruce
Appreciate the speedy service
Karen G., Safety beach  VIC
Alfie's has devoured his too tendon and his given his paws up to all the treats we purchased
Alfie has devoured his too tendon and has given a paws up to all the other treats we got.
We will definitely be using you again
Cheryl J., Lethbridge Park  NSW
Thank you for your awesome products. My baby boy Khan loves them.
I love the fact you sell big pieces for the bigger dog that last.
Robyn M., The Junction NSW 
Hi Bruce,
Here's my dog Milo with his green lipped mussels that arrived super fast!
He's really enjoying eating them.  Regards, Robyn
Jennifer C., SHOALWATER  WA
Hi Bruce,
Thank you for including a free roo stick with my first order. Here is a picture of Grummit enjoying it on his first day at home.
He's only 8 weeks, so a third of it was enough for him. I will be ordering more soon.  Jenna .
Kate S., Richmond  VIC
Thanks for the great service and fast delivery. My dog is loving the kangaroo jerky.
Anthony C., Wavell Heights  QLD
Thank you Bruce, great communication and service, really good website, easy to navigate and I received my delivery today, 7 August 2018
Looking forward to doing business again regards Anthony and Bailey
Clive E., Fremantle WA
My dogs just love the shark cartilage
Sueann L., Sth Melbourne VIC
Thanks for sending this so quick! My dogs are already all over them. Please see below a testimonial from me!
This is my first time ordering from Bruce at Healthy Dog Treats and so far I'm pretty happy with what I've seen. The item was posted so quick, and my dogs couldn't stop sniffing my bag the moment I brought it home. The treats are such a good value for money as well.
I have looked around pet stores for good quality long lasting treats in bulk and as you can imagine this doesn't exist. Will definitely be a returning customer!
Jo T., Holland Park  QLD
Hi Bruce,   Just wanted to send through some pictures of our boy Dave enjoying your treats.
We could not be happier with them. We were having a problem with his breath, and the lamb bones we gave him seemed to upset his stomach a little.    So we bought a sampler pack (medium) and it has been fantastic!
His teeth are clean, his breath doesn't smell and his stomach has not been upset once!
We love that there are no preservatives, colours or flavours too…..it makes such a difference!
Thank you again, for a great quality product!   Kind Regards, Dave's Humans :  Jo and Andy
Sally M., Amphitheatre VIC
G'day Bruce & Co,
Just sending some happy snaps of our 1 year old Brussels Griffon boy Claude enjoying some roo jerky!…he chews through a stick a day…
Thanks heaps, we're thoroughly enjoying the ability to give our dogs natural products that keep them happy & healthy…!!
Cheers,  Sal Millard & Co
Alexis E., Pakenham VIC 
My 6yo GSD Gunner recently had TPLO surgery due to a completely ruptured cruciate ligament. I was really worried about finding things to do and keep him amused while during recovery as he's quite an active dog.
Your big chewer packs have been a godsend, keeping him busy, happy and satisfied while he's on crate rest. Great value for money – thank you!
Tabitha F., Mawson Place  ACT
To make your day a bit better I have attached a photo of my three fur babies to show you the level of concentration face they give when we're opening a new bag of your treats!
They just love them, I am so glad we found your company.
Have a nice night
Brett F., Mansfield park SA.

Hi Bruce,

Thanks for all the healthy dog treats. It's great to find a supplier at a reasonable price.

Here's is our salon dog Louie showing off the range. So far all our furry clients are loving them.

Thanks again. Brett and Alyce
Phoenix A., Koongamia  WA
Thankyou for our delivery!!! Someone was very stoked with his free roo stick !
Love from Phoenix (human) and Sirius (pup)
Olivia S. Armstrong Creek VIC
Hi,  My name is Archie and I received my treats in the mail the other day and I go crazy for them!! The carob buttons are my all time favourite. The mixed bag of treats is always a surprise of what I'm going to get. They also came in the mail so quickly as well.
Thank you for my delivery Bruce and also the free roo stick, cannot wait to munch on it
From,   Archie and his mum Olivia
Koula T., Annandale  NSW  
Chiba loves her healthy treats. As soon as we received the parcel she was sniffing it and wanting to tear it up. She could smell the goodness in there.
I ordered several different types and she particularly loved the kangaroo tendons.  We will definitely be ordering more in the future. Super fast delivery and great quality treats. Thanks so much.
Regards  Koula and Chiba