Healthy Dog Treat Testimonials 2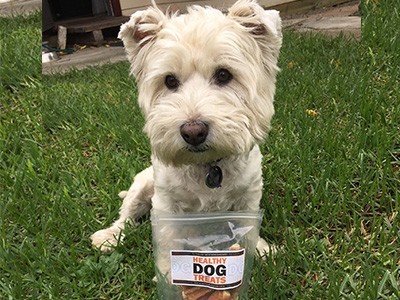 This is the second Testimonial page for Bruce's Healthy Dog Treats
I am very grateful to the following people and their dogs for ordering & enjoying Bruce's Healthy Dog Treats. These are the direct QUOTES that they have sent me. What great looking dogs ! Thank you, Bruce Dwyer & Archie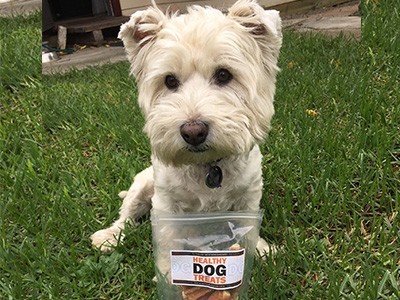 Annabel S., Newport VIC.  DOG = MOLLY
Here is a photo of Molly with your treats. I'm really happy with the quality of your treats and that they are 100% Australian meat.
Molly also loves them and she's fussy. You being local and doing home delivery* is the icing on the cake. (* Free delivery for Inner West Melbourne Suburbs or Over $200)
Annabel
Roberto Z., Stanhope Gardens NSW.  DOG = George !
George is loving his treats… he particularly likes the crocodile sticks.
Chantel P., Adelaide SA.  DOGS = Jasper & Bentley!
Thank you for our lovely treats!
We Love them so much, we don't understand why we aren't allowed them for breakfast, lunch and dinner?
Love Jasper, Bentley and one happy furmum. Xo
Tiana E., Burwood VIC  Dog = Siglo
Hi Bruce,
Siglo loves his new treats! Quick delivery, packed safe and securely. Siglo tried the kangaroo meat balls and a piece of roo jerky and loved them both. Can't wait to try the rest of them.
We will definitely be ordering again. Thank you
Susan R.,  Sydney NSW. DOG = Karma !
Hello Bruce & Healthydogtreats Team,
My order arrived – thank you to you & the Team.
I am impressed with the quality of the product, I was afraid Karma would consume in one or two crunches. She's been busily crunching away on a hoof of some poor creature, in fact, the hoof has finally got the better of her. She's now having a little nap, half the hoof remains. That's a first.
How does Karma feel? Need a smiling dog emoji ! The manna from heaven, she's been waiting for.
Thank you.  Susan & Karma
Larissa C.,  Sydney Olympic Park NSW,  DOG = Chilli !
Hi Bruce,
Just wanted to say thank you as I have finally found something my 7 month of miniature Dachshund can't destroy in 5 mins. Here are a couple of pictures of Chilli looking forward to his treats and enjoying his hoof. I will definitely be ordering from you again soon 🙂
PS Chilli has his own Facebook and Instagram so please feel free to follow him @Chillithehotdog
Kind regards, Larissa Carpenter
Julie H., Sydney NSW. Dog = NERO !
Hi Bruce
Here's 'Nero' finishing off a Bully stick. He and 'Otto' the other Chihuahua squabbled over this stick as it had been out in the rain and was especially stinky and chewy.
Thought you might like to see a happy customer!
Kind regards,   Julie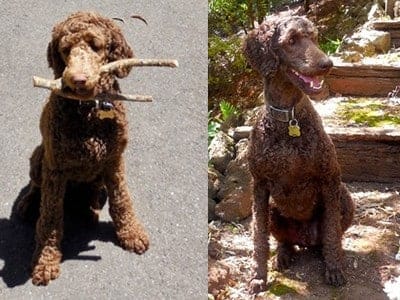 Kaye C.,Buninyong VIC.  DOGS = Barry and Roger !
Hi Bruce,
We live on ten acres near Ballarat and Roger and Barry are outside dogs. They each catch at least one rabbit every day and eat them from head to tail, so yes, they are used to serious chewing. I expect young Barry will handle the toughest things best, but Roger will give them a good go.
We are taking them on a three month camping trip in NT and WA this winter, so lots of time in the car. I'm hoping having something to chew along the way will keep them amused. I will let you  know how they go with their bag of goodies.
Regards, Kaye
Claude D.,  Thirlmere NSW./  DOG = Alice !
Hello to you Bruce,
Many thanks for the items that you sent. (Here is) … a photo for you of our little dog Alice with a packet of your product.
Regards Chris and Max.
Michael M., Happy Valley  SA. DOG = Carly !
Hi Bruce, received healthy dog treats today and Carly has had some already and she loves them. Please see the pic attached of Carly enjoying some shark cartilage.
Thanks for the quick delivery and service.
Best Regards Michael for Carly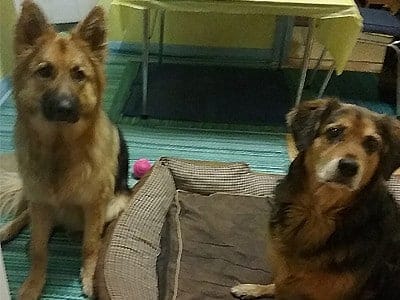 Marlene H., DAW PARK  SA.  Dogs = Koda and Elke 
My dogs, Koda and Elke, absolutely love the different flavours and goodness of the Healthy Dog Treats.
As soon as I open the box, they run to their 'positions' and wait for me to give them their treats.
Marlene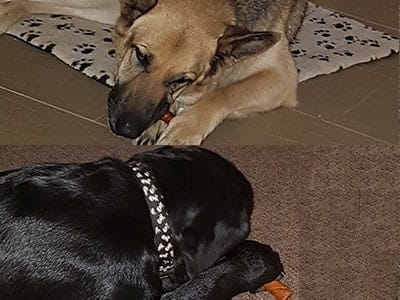 Elizabeth D., Llanelly VIC
Our dogs took a while to get the taste of the rolls (Pork Twists) but love them now
Amber R., Shailer park QLD, DOG = Maddie
I'd like to say I'm very happy with the service that you provided it was very quick and the treats are really great. Especially the jumbo pork treat, actually a great size!
Here's Maddie, Dane x who's the treats where for a (late) Christmas present.
Sharla G., Newport.  Dog = GRAHAM !
Hey Bruce! We love your healthy dog treats, always speedy delivery and super easy to shop through your store.
Graham absolutely loves his treats and it's great to see they last longer than 2 minutes which is what usually happens.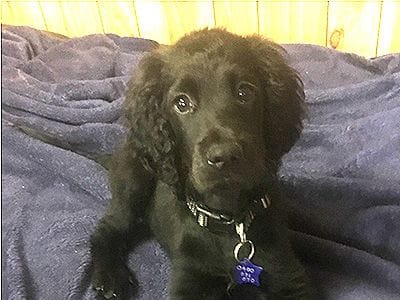 Phoenix A., Koongamia WA DOG = Sirius !
Hi Bruce!    Attached some pics of my boy Sirius with his bag of treats! He thoroughly enjoyed his first bully stick! And I as a pet mum who is very dedicated to only feeding my animals the best and top quality food felt happy and confident giving him a treat with the best ingredients and love behind the brand!
Definitely will be reordering when this is running low (don't think it will take long… would be tomorrow if Sirius had any say in the matter!
Phoenix (And Sirius)
Nikita M., Crestmead QLD  Cat = Max !
Thank you for these, they're actually for my cat and not a dog. He's never liked any treat except jerky and finding a good one has been hard.
I stumbled on your site and saw the page that led me to give the products a go.
He is now in love with the jerky and enjoys the fish but not as much. I'll be sure to use your company in the future for all his treat needs. I've attached a photo, even though he's not a dog.
Much appreciated for your efforts in supplying healthy treats to the animals of Australia!
Nikita and Max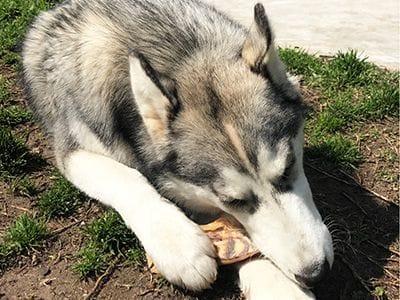 Ann R., South Melbourne VIC
The kangaroo tendons are a great hit with my two husky pups. It's now a standard part of our morning routine, the boys will remind me if I take too long to give them one!
They're a great way to keep occupied when I leave for work. Being completely edible I don't have to worry about any fighting over bones.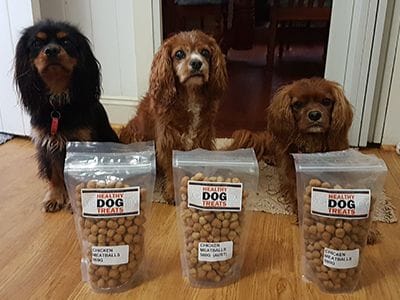 Tina Q., Esk QLD
Here is a photo of my 3 dogs with your fantastic chicken ball treats.Recommend them.
Andrew N., Kew  with dog Groot
Wanted to drop a line to let you know how much I value you and your business. I find that you have a great range and your prices are better than in the chain pet stores for the bulk treats we need to keep this loveable monster happy!
Your communication is fantastic if there is any issue with access to products, and dealing with you is a breeze. Thanks. Most of all, Groot here thinks the treats are the best!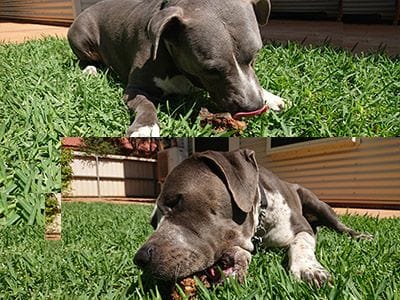 Alicia D., Port Hedland WA
Hi!
Just wanted to say thanks for the awesome treats! My two staffys love your Kangaroo tail bones and kangaroo jerky!
Look forward to being a long time customer.
Pamela M.,  Nerang QLD., Dog = Molly
Nice to be able to buy Nutritional Australian product (Beef Bully Sticks) without the worry of any nasty harmful additives that my best friend can enjoy!
Molly, my 1 year old beagle baby.
Joyce G., Tootgarook VIC, Super Dog = Sophie
Our 17 year old chihuahua, Sophie, loves the kangaroo treats.
And she thanks you for her free Roo stick !
Sarah C., Forcett TAS,  Dog = Miss Lexa
Photo of Miss Lexa enjoying her treats (a bit blurry as all she wanted to do was tuck in).
She loves the bully sticks but I think her favourite is the roo tendons.
Thanks for the fast delivery.
Rebecca W., Dromana VIC.  MOJO Superdog !
Hi there ?
My names mojo.
Since my mum/owner starting giving me these charcoal biscuits, 3 times a week, putting it bluntly, my poo is perfect  ?? thank you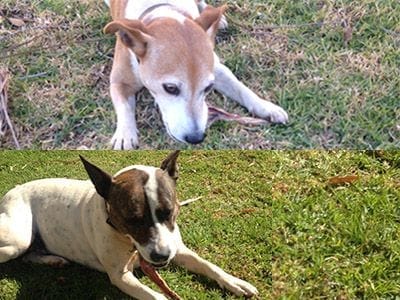 Penelope T., Clifton QLD =  JR (jack russell & Bella – Bully)
Thank you Penelope for sending some great pictures of your dogs in.  Here they both are enjoying some Roo tendons.
(Cheers Bruce)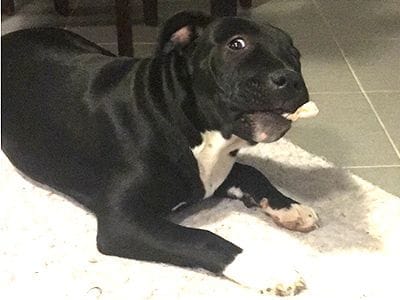 Lee C., Higgins ACT
Thankyou! The treats arrived today and look brilliant!
Mariam B., Lane cove  NSW  (plus Bully dog !)
Thank you so much for the 100% natural treats, our big baby BULL loves them.
Nitro A,. Mebourne VIC
The Yogurt Drops we ordered were very much loved and keep the two monsters well behaved! I usually purchase them from the local store but it's so much cheaper to go to Healthy Dog Treats!
Our order came in 2-3 days after I ordered which was great- and any questions I had were answered shortly after emailing them. We'll definitely be placing another order soon to try all the other treats
Karen k, Ringwood VIC, and Superdog LUGNUT !
Here is a pic of our 2 year old Staffy, Lugnut enjoying his roo tendons which arrived this morning.
He loves them and your timing couldn't be more perfect as we just ran out yesterday!
Luggy also says thanks for his bonus roo stick treat you sent.
Deb & Shyler Reno
Shyler would like to thank you for her delicious treats, she gives them a tasty 10/10. She loves the Roo Tendon.
I would like to also recommend your treats, I haven't taste tested of course Lol, left that for our girl, your service & products are exceptional and will also recommend you to others who have fur babies.
I have attached a pic of her eating a roo tendon. She keeps going to the cupboard where they are kept asking for more.  🙂
Charmaine E,. Peakhurst NSW, Superdog = Mamumba 
Thank you so much for your healthy dog treats. It's round 2 of purchasing from you , and definitely not the last  and I couldn't be happier, neither can my pooch. Thank you for such prompt service, I was down to my last 2 bully sticks and received my order within less than 24 hours!!!!!. I've never seen such drooling on my furboy and knowing that these are 100% natural puts my mind at ease. So happy I found your site and treats and so is Mamumba.
And that ROOSTICK you include, may have to buy them as well!!! Too many good things to choose from.
Inger K., Altona North VIC.  MILLY super dog !
Attached a pic of my dog milly who just lives the roo tendons.
Thanks so much for supplying beautiful dog treats and the super fast delivery.
Cheers   Inger
Kasey L., Traralgon VIC    Archie Superdog
Archie (my dog) and I just received your order. We were very happy with the contents of our parcel and Archie didn't know which treat he wanted to eat first.
I will definitely be purchasing more treats from you. Your service is very friendly and the parcels arrived in a timely manner.
Thanks,  Kasey
Maxine L.,  QLD. Jet Super Dog !
Your kangaroo treats are just fabulous and my boy loves them, I particularly like giving him the kangaroo cartilage, just so good for a dog's health and great for their teeth.
Your treats are just the best I have ever given him, I am very fussy with anything I give him and your treats are just a perfect supplement, thanks again.
My dog's face just says it all, he is a super friendly dog to (friendly people) and all dogs big and small but with that a fabulous watch dog.
Shony B., Sunshine NSW.  DOGS = Loco & Olive
Thank you for promptly sending my chewer sampler packs, they really are great value. My dogs Loco and Olive couldn't wait to taste your range of products.
Best Regards
Shony
Christopher H   Suffolk Park NSW, Amy (dog)
"This is our 'rescue greyhound' Amy.  If we were in America, we'd say she "goes totally ape-XXXX" over your Roo Tendons.  Here, in Australia, I guess we'll just settle for "She's chuffed".
There's some thinking that Amy came from IKEA, but without proper assembly instructions . . . could be true."
Janet O., Hastings  VIC.  Hanna (dog)

"Hanna loves her Healthy Dog Treats, many thanks for the very real and timely service. Happy Janet and Hanna (dog)"
Rod N., Apollo Bay + Rupert Dog
"I have been enjoying your carob treats for some time.  My people put them inside a ball or other objects and I have to work hard to get them.  I live near the beach and love swimming.  I receive some treats when I return the ball (I am not very good at that as I want to keep playing with it) and come when I am called.  I have attached a picture of me and some of my friends on the rocks near Apollo Bay.  I am a chocolate coloured spoodle.  Thank you for your tasty treats (I don't particularly like the kangaroo sticks but I give them to my best friend Nigel who is a long haired Jack Russell)."   Rupert B. N.
Sylvia T., Carnegie VIC + Boomer & Bella
This is Boomer and Bella and they ❤️ roo tendons and beef jerky from Healthy Dog Treats. Absolute fave is the roo tendons which are nice and lean.
Kilo bag in the fridge goes a long way! Very fast prompt service. Definitely returning for more!
John C., Lithgow NSW
Hey Bruce . Finally "almost" finished the first order . My dogs absolutely love the beef jerky and go nuts when they know they are going to get their daily treat . The la