Testimonials 4
This is the 4th Testimonial page for Bruce's Healthy Dog Treats
I am very grateful to the following people and their dogs for ordering & enjoying Bruce's Healthy Dog Treats. These are the direct QUOTES that they have sent me. What great looking dogs! Thank you, Bruce Dwyer & Archie
Next ….
Casey D., West Brunswick VIC. DOG = Rosie !
Rosie's absolute faves are these beef bully treats. Given her size, they last for ages and are healthy for her teeth. Thanks so much for organising postage so quickly Bruce. Service experience from start to finish was excellent & communication was ace. ??
Kind Regards,  Casey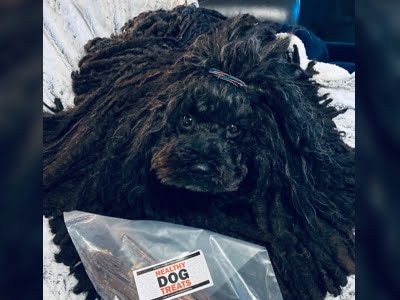 Vivien W., Pascoe vale VIC. DOG = Kaia 
A courier dropped off another package today and I thought my mum has been doing some more covid shopping?. I couldn't believe my eyes (or my nose) when I got to open it and realised it was for me!!!!    The best delivery ever!!!
I've tasted one now and I must confess – Bruce's healthy dog treats  are the absolute best!!!! Canines of the country hear me woof!!! Once you've tried Bruce's you will never go back….? Kaia the puli?
Cindy L., Mont Albert North VIC. DOG  = SUMO !
Thank you for providing Sumo quality treats in such a timely manner. Love your service, and Sumo loves the shark skins!
Appreciate your work.
Cindy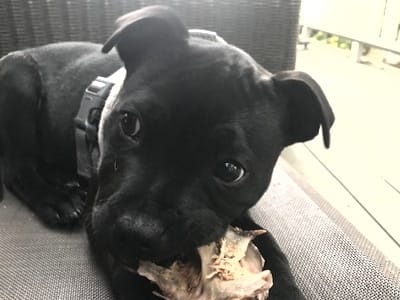 Laura T.,  EASTWOOD NSW. DOG = LOKI !
Loki loved loved his treat bag, thank you!
Laura.
Tracey W., BONBEACH VIC . SUPER DOG = Mavis
This is Mavis enjoying an Australian pig's ear, one of her favorites. She also loves the green lipped mussels.
Thanks for the always speedy delivery and healthy treats, Mavis always knows when the delivery is for her. Cheers!
Ashish, Randwick NSW. Super DOG = Clifford !
Thanks Bruce.
Received the shipment in record time.
Clifford loves them. He is so excited when I have one of your treats in my hand.
Daniel G., Highbury SA, + LUNA
Thank you Bruce.   "Luna would make any treat disappear in short time.
The variety and challenge in these treats is making it more rewarding for her and she can't get enough of laying down and chewing them. Thank you for the great products!"
Dominique J., Kingston ACT +  PUGS Abbey and Miley
I'm so glad I found your website.  My pugs Abbey and Miley absolutely love your healthy treats.  They are eating your beef jerky and as you can from the photo below are very happy.  We have also tried the kangaroo jerky which they love and have just placed and order for the duck jerky.
Thanks again for making my pugs happy and for your wonderful service.   Dominique
Gill H., Newport VIC + BUSTER !
So happy to find a local business that sells liver treats and at a great price. Buster is very impressed with your product and as for same day delivery (inner west Melbourne), priceless.  Gill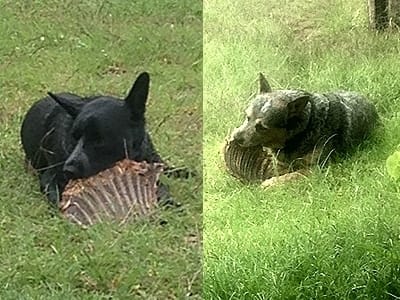 Sharyn N., Vacy NSW 
They are just too yummy to let mum close for a photo ??.   They absolutely love them. Will definitely be buying more. Thank you for providing lovely healthy dog treats for our fur babies.
Cheers  Sharyn
Rachael L., ASCOT VALE VIC 
Thanks for the great product and fast shipping. Both my fur babies loved it so much and they cant wait for me to open the bag. I have separated the bigger pieces out onto another bag with ziplock. Its great value and we love the single ingredient treats … Will be back to buy more treats very soon.
Tessa T., Kenmore  QLD + Gronk
Our dog Gronk loves the Healthy Dog Treats, especially the Roo meat balls and chicken meat balls. We use them as rewards for his training.
Kind regards   Tessa
Ann C., Port Lincoln  SA+ Quinn & Scout
Quinn and Scout love to receive Bruce's Healthy Dog Treats.
They really love them and its really great to know they are all natural and gives me peace of mind knowing they are low in fat and healthy.
Thanks for the great service.   Elizabeth, Quinn and Scout
Tabitha W., Warrnambool VIC + Dog Saxxon
Hi – Here's Saxon waiting patiently for a Roo Tendon that were just delivered.
Thanks   Tabitha
Penny T., Mareeba QLD + Superdogs Lulu & Max
My Lulu and Max got so excited when they smelt the parcel that just arrived. I have ordered a few times from Bruce's now, and each time the products have been an absolute win with both my dogs. Max, the grey one, can be fussy with non-natural foods, so we never have a problem with Bruce's natural treats.
Max's favourite is the Beef Bully sticks and both dogs spend hours chewing on them until they are all gone. The smaller crinkle treats are great for rewards. Lulu, the smaller one can get stomach issues, but since moving to natural products, these issues have reduced dramatically.
Cheers, Penny 🙂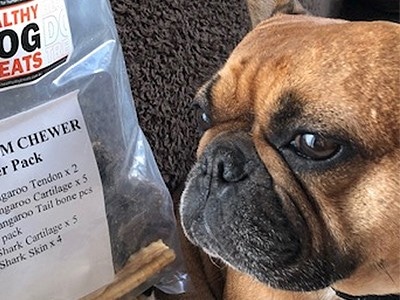 Helen S.,  Balaclava VIC & Fanta DOG
Hi Bruce,
Fanta is a very excited dog, so much deliciousness in 1 bag!
Thank you    Helen
Gavin M., Paddington, QLD  &  Fergie!
Hi Bruce
This is my Jack Russell "Fergus" with a bag of your Beef Bully Sticks.  He was straight onto them when the courier arrived – he  knew there was something good in there.  I gave him one right away which he obviously enjoyed because he spent the rest of the day hassling me to give him more.
They are great – tough enough to keep him occupied for a good while, which means he's getting a good teeth clean.  He's happy.  I'm happy and by the smell of them if I was a terrier I'd think they'd taste pretty good too.
Thanks mate.   Cheers   Gavin
Anja S., Dalrey VIC & Laurie 

Hi Bruce,
Thanks so much for stocking an amazing range of treats! Both dogs (Laurie pictured) are absolutely mad for the crocodile feet and are loving the squid jerky as well.Nice to have some natural snacks that occupy them for a while.
Cheers,     Anja
Toni D., LANE COVE  NSW.  Super Dog = Ria
Hi Bruce
I have received the package. Thank you for the great customer service and your products which will keep our Ria busy for many hours.
Yours   Toni
Trudie S.,  St. Clair NSW   DOG = MONTY !
This is Monty with his chicken filled pork twist not only was he very happy but I was impressed by the real pork smell when I opened the pack!
Safe to say he's looking forward to trying his other treats!
Thanks again from Monty the greyhound.
Robyn W., Ulladulla NSW.  NOAH Super dog !
Thank you for your very quick service …
Here is pictures as requested of our fur child – 9 year old Standard Poodle "Noah" he couldn't wait for me to open the parcel and see what smelled so good. Pig snouts are already a favourite snack but Chicken livers are something else !
Just over a week ago we lost our 11 year old girl, She had been sick for quite some time. Noah had been with her all his life and doesn't know what's happening, with some TLC and with the help of some new and healthy treats, we hope he'll feel better soon. Thank you too for the free roo stick…. I had it for my breakfast ……it was delicious!  It did occur to me later that you had sent it for the dog ? but it's too late now!
Thanks again for great service, I'll try not to let Noah eat them all at once.
Jennifer P., Osborne Park WA  & COCO Dog !
Coco just loves her Shark Cartilage and so do her teeth and has high level of Omega 3 for heart and joint health
She has had them Every day since I got her and is almost 14 months.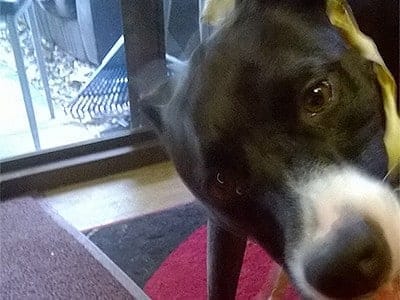 Val K., Sth Mission Beach QLD. Super DOG = GYPSY
Just received your order thank you and have a very happy pup!
I gave Gypsy a choice of everything in the packet.  She chose a rib first which are her favourite treat and why I had ordered some but think these are going to be a new favourite and you can play tug with them. Lol.   Good fun.
She's a 15 month old American Staffy rescue dog, a little cutie.
Marcia C., Tuncurry NSW.  DOG = Marky & Shelley
Hi Bruce, I Wanted to let you know that my two beautiful seniors absolutely love their treats, purchased from your website.
Marky is my 13.5 year old Rescue dog, munching on his Kangaroo Ribs …. his all-time favourite. and Shelley is my 11.5 year old Rescue dog, with her all-time favourite treat, long Kangaroo Jerky.   Two very happy customers Bruce. Thank you.
I love watching them when the parcel arrives. Their tails wag, their noses are busily smelling every inch of the box and they can't wait for me to open it up. Their enjoyment of their daily treats is something I've rarely seen with them. They're both like puppies again as they grab their treats and rush out the back door to their special "treat spot" on the grass.
Many thanks for your help too, when I had some initial questions about which treats were best…. and too, the great service provided.   Kind Regards   Marcia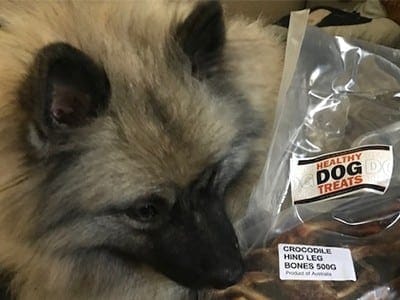 Lisa C., Newport VIC
Hi Bruce,    Thanks for dropping the order off. We are reintroducing Shadow back onto crocodile as he has had some issues with other proteins and it is great to find your treats locally available.
He was a bit confused at first but seemed pretty happy after. I'm sure we will be ordering more from you in the future.
Thanks, Lisa
Georgina W., Sofala NSW
I just wanted to say how much our dogs love your treats!!!! Every time a box of your treats comes in the mail they always get so excited and hang around while I put them away (they always get one of course). We always keep the health of our dogs in mind and to know we are giving them a healthy natural treat is always good.
Although they are loving all the treats, their favorites are the Beef Jerky and the Chicken Breast Fillets!!!! Even our fussy cat who will only eat one brand of cat food loves the Chicken Breast Fillet!!!
Healthy dog treats are now the ONLY treats I give my dogs as they just love them!!
Kind Regards   Georgina
Karen G., Jesmond NSW.  DOG =  Harvey
Hi Bruce,
Received our order today…one very excited dog!
Great service and a great product!
Guy H., Ashfield  NSW
Here sits the matriarch of my Cardigan Corgi clan with her two most precious possessions, her frisbee and her dried liver treats.
And she loves the dried sardines as well. Many thanks from us all.