Kangaroo TENDON FLAT dog treat – Luxury, healthy and VIDEO preview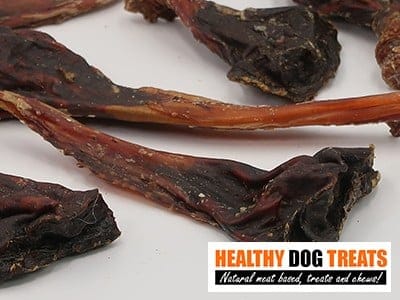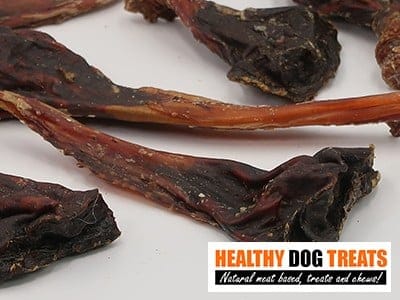 Definitely one of the flagships of our range. We currently have two types of roo tendon, regular (round bulb) and flat bulb.  For clarification, good quality kangaroo tendons have a stalk and a bulb, that can vary by a great margin, but the overall treat should of course look and smell attractive, to a dog.
The FLAT version is slightly more economical, and has a slightly more rubbery texture.  This can occur in the driers proprietary drying process. It means that some dogs will find the stalk a different chewing experience.  The bulb being flattened is also more dense. Both types of tendon are from the same source, the kangaroo leg tendon.
What many clients do is buy sample sized bags of both types of tendon and see what their dogs like best. Though its very unlikely that they will dislike either.
Kangaroo tendons flat dog treat MAIN BENEFITS
Yes they are natural and organic … (ie from the wild non farmed kangaroo) … but the main benefit is a great low fat, reasonably long chewing (for mid-sized dog with soft jaw, or small dogs) that is a very safe option.  Because each tendon stick is a single tendon, it is connected together naturally, not amalgamated with anything like grain.
DOG TYPE
Almost every dog loves kangaroo tendons. The flat variety is suitable for the very smallest to largest dog, as long as they have some ability to chew and rip. We have heard of a chihuahua carrying around a tendon all day long as security until they settled down in the afternoon to dine on it.
PROS – Because this is kangaroo meat, and organic it is also hypo-allergenic, meaning very unlikely to cause a genuine allergic reaction.  The game smell makes it very attractive to any dog
CONS-  As with any NEW protein source, if your dog has not had kangaroo before, take it slow on this to keep its stools firm. My dog has a lot of allergies, but kangaroo is not one of them !
CONCLUSION
Store in a cool dry place away from light and these will last a long time (assuming that your dog hasn't eaten them already.
Typical analysis: Crude Protein 72%, Crude fat 4%, Salt 2.9%, Crude fibre <0.1%