beef jerky Dog Treats High protein value, long lasting – Instructional eating VIDEO.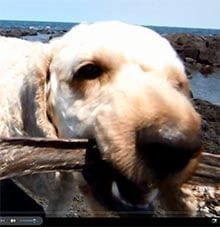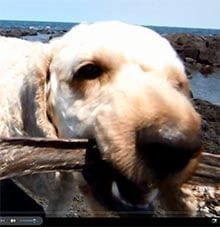 Beef Jerky is the king of dog treats. And the reason is that beef is readily available from providers meaning that the product is usually in good supply and high quality.
The meat is also one of the main meats that most dogs eat (via as an additive to pellets or cans, or raw like I feed my dog).
The big difference with our beef jerky and some others is that ours is 100% beef. The 'processing' is simple. The meat is extracted, the meat is dried, we get you the dried 100% beef.
Elsewhere on this site I have given the nutritional information for beef, but rest assured being natural, it is one million times better than anything artificial that most dog food manufacturers concoct. All of its proteins, minerals and vitamins are in the 'right' natural proportion. There is no need for a glossy brochure to sell something that dogs would actually naturally eat.
The specific reason the beef jerky is such a great treat is that it is naturally long-lasting.
In the VIDEO on this page, you will see my spoodle / cockapoo, who is a healthy five year old 2 kg dog, take a long time to each strip. The reason is that this is just strips of beef, not decomposed and reconstructed with material to keep it together. This means that dogs have to actually put some work into eating it. They have to wet it with saliva, then either put it between their paws and rip or just chew continuously on it until the softened parts can be torn off.
It is suitable for almost all dogs. VERY Young dogs may have some difficulty in eating it because they may not have the jaw pressure yet, but as soon as they can chew raw meat chunks, they should be allowed to strengthen their jaws on this. Similarly, old dogs may have a loss of teeth or jaw pressure and struggle with it, so you should probably supervise very old or young dogs eating this product.
Dog Teeth cleaning the natural way
Another reason this kind of treat is so good for your dog is unlike large bones, it will not wear your dog's teeth down. Unlike artificial so-called 'dental sticks' made of vegetable and grains, this is a food that dogs would actually consume in the wild (or at least a similar red meat). The fact that they have to chew to earn their food means that it is eaten slower and that it will clean a lot of build-up off their teeth.
Specific to this video:  This video shows my dog eating two consecutive beef jerky strips down at our scenic beach.  Note that these are the sizes readily available in the small pre-packs of beef jerky and each one takes around two minutes plus to eat.
You may also like to note that each one of these beef jerky strips weighed approximately ten grams, that means there would be approximately ten such strips in a 100g bag. That said, because these are a natural item, the strips can vary from anything from around 2 to 14 g per strip in the pack.
If you really want to treat your dog like a king (or queen) then I would suggest the bulk kilo bag of beef jerky is what you are after. This is because besides making another saving on the already discounted pre-packed small bag prices, these bags contain strips up to 16g in size. For those big chewing dogs out there, this gives them more of a challenge and the jerky is likely to last a while longer. They don't have a chance to just eat half of a strip then swallow the other half.
Article by Bruce Dwyer. If you wish to use any of this information please refer to the article as a reference and provide a link to our WEBSITE.
If you would like to view the world of a dog walker and get healthy dog treat specials then please LIKE HDT on Facebook