Best Bully Stick Guide in Australia – A Stick for Every Dog!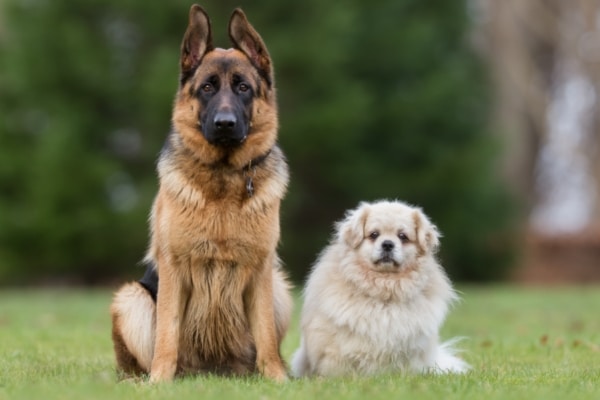 Bully Sticks, also known as Beef Pizzle, are 100% Aussie beef muscle meat from bulls and steers. The ones on OUR site are 100% Australian grown & made and a 'whole food' your dog can fully digest.  Be aware that many sticks sold in Australia are from overseas origin, with far less stringent quality control.
Bully sticks have a very simple production process they are simply cut, dried and packed (no additives).
What's so great about Bully Sticks?
Dog owners will mostly tell you that they buy beef bully sticks because they want something that will occupy their dog for a long time.
But the truth is that long-chew treats like Bully Sticks serve many more functions than just that.
Most dogs get very second-hand meat in their dog food pellets and kibble, or if they eat wet canned food or roll. Because dogs are carnivores and flourish on 100% meat products a Bully Stick treats provide meat protein and meat fat which are the building blocks of what makes your dog healthy and happy. Also being 100% natural product with no additives you are getting 100% value and little chance of negative reactions.
Bully Sticks also clean teeth and gums not by some recombined, pressed, and glued vegetable artificial pretend 'treat' that some companies sell as "Dental Sticks". But don't get me started on that!
Why HDT Bully Sticks are the best…
Our range is renowned for being:
1) Extremely High Quality
We have trialed and rejected many supplies over the years and only the very best are accepted by us.
2) A good Bully Range (to cater to almost every dog)
We offer the following range of long and short sticks (2022). There should be a stick to suit almost every kind of dog!
Beef Bully Sticks Short
These sticks are the 'Bully Sticks Long' cut in half or shorter. They are often pressed when wet, so they are much wider on one side than the other. They are from one of the highest quality suppliers/dryers in Australia, so you know they are premium quality.
The deep brown colour comes from slow oven drying. They can vary between 8 -15cms typically, but the majority are around the midpoint.  Because their width is only about 5 to 10 mm (depending on the side you are looking at) they are a great chewing treat for any teething puppy dog or medium sized dog that has some good chewing skills.
Note, very young puppies, retrievers with soft mouths or old dogs may not be able to manage ANY bully stick, but if you want to try the one that they most likely will have a chance with, this is the one!
If you have a very small dog, you can always cut these short sticks down further using secateurs.
Also being short you won't waste a whole stick if your dog buries it, and you can give them the whole stick without worrying that it will add too many kilojoules to their diet.
Bully Sticks Short look
Beef Bully Sticks Long X-LG Width
These are the grand-daddy of bully sticks! They will also have natural variance in length and width but tend to be around 25cm long and 15-25 mm wide.
These are the kind of sticks owners of Rottweilers, Mastiffs and any BIG Powerful Dog in their chewing prime really appreciate.
Note occasionally some sticks dry with an air gap in the centre. These obviously wont take as long to chew, but as you are buying by WEIGHT from our store, you will still get every gram of value in your pack.
Being a long stick, and the thickest stick we can get, means that they will last the longest for any big dog.
These sticks can be cut down in half with secateurs for the hard chewing smaller dogs like Staffordshire Bull Terriers. They will need a powerful chew to take these on!
Bully Sticks Long X-LG Width (typical width 15 – 25 mm)
3   Beef Bully Sticks Long
These are generally long – around 20- 25cms, dark brown, and moderately thin. Some small sticks might be included in the pack, but the majority are full length. The thinness means that they can be chewed by most dogs.
Unfortunately, these are seasonally available, depending on harvest, demand and supplier export contracts. We aim to have as many bully sticks available as we can.
The reason some people buy these rather than their cut down small version (Bully Sticks Short), is that dogs tend to chew the smaller sticks from one end and can speed up too much when they get closer to the end.
Having a longer stick (Bully Stick Long) means they need to persevere to the very long end before chomping it down. But conversely, if you give a dog a long bully stick they don't completely eat, they might bury it allow ants to consume it … there are upsides to everything in length and weight of sticks.
Bully Sticks Long:
Will my Bully Sticks look exactly like the product pictures?
The truth is sticks vary in colour, width and length almost on every stock order, because they are 100% natural not man-made or manufactured. So, the pictures are a guide only.
Buying from HDT means you don't have to worry about the variance in sizes, as we sell our beef bully by WEIGHT not by number, so no matter how things change from harvest or season, you will still get your values worth with us!
We understand many owners concern with only buying Australian product, and so we do so with every product that we can. We make no compromise on bully sticks and ONLY buy Australian ones .. albeit at a higher cost to us too …