Beef Cubes Dog Treats – The nutrition and uses, plus VIDEO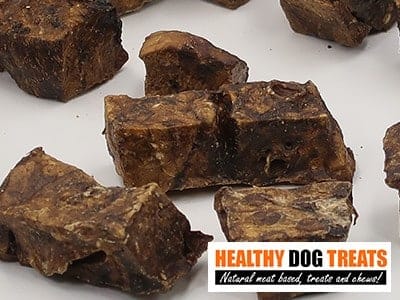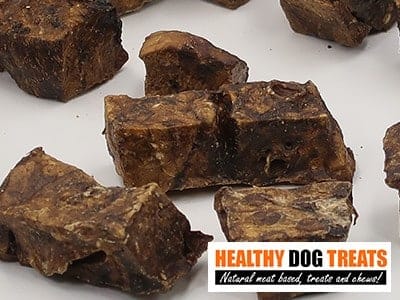 Beef cubes are another of our hidden gems. They are a 100% beef product (cow lung) which has a crunchy outside, but can easily be broken down into nutritious portions very easily to almost any size dog.
Beef Cubes TREAT PURPOSE MAIN BENEFITS
This treat is one of those true dual-purpose natural treats. It provides the primal crunch, and muscle meat kind of dog nutrition – ie one that is not too potent to have the potential stool issues.  But being 100% animal product, it gives your dog great meat protein supplementation for their regular dog food.
Also being such a big light and airy cube, you get a big bag, but we sell it by weight so you know exactly how much you are buying in dollars and kilo joules. Note, We also sell beef puffs, that are the same raw ingredient, just a different cut. The puffs are more economical, but come in larger slab. The cubes are sometimes more fun for a dog to crunch down on and easier to measure out.
DOG TYPE –  This isn't sold for a long chewing experience, it is sold for nutrition and fun of the crunch, so any size dog can eat it ! Even puppies and most senior dogs … as long as they have a little jaw pressure, but they can even nibble on it until they break through the surface and collapse it.
PROS –  The clear winner here is that it provides and exciting crunch, and since it is so low density, they can have a few cubes without there being a weight gain issue.  The other major value is that since any dog can eat it, it provides excellent beef protein nutrition.
CONS –  None. The treat is meat for nutrition and fun, so there is no question about occupation time or any safety concerns.  Its just a great 100% beef treat!
CONCLUSION
Currently we have three animal lung treats: lamb cubes, Beef cubes and beef puffs.  They are all 100% animal product, meaning no additives or colouring – nothing harsh or artificial added.
If you want to give your dog a big treat that is low density so they wont be getting a lot of grams in one sitting, then this is an ideal treat for you.