Beef JERKY Dog Treats – The nutrition and uses plus VIDEO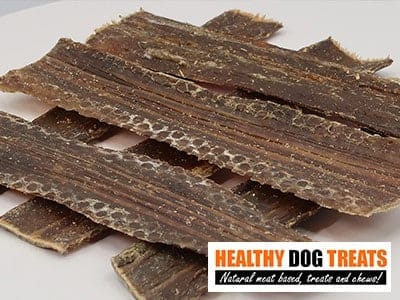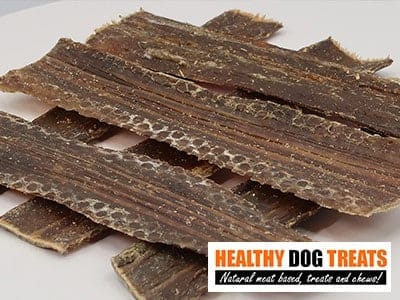 Beef jerky is a favourite among humans and dogs.  There is a good reason for this, its delicious and cost effective.  Though in recent years Australia's exports have put major pressure on beef prices, even beef jerky dog treats.
Beef JERKY TREAT PURPOSE MAIN BENEFITS
Why would you buy beef jerky if you already have beef in your dog's commercial dog food diet?
Beef is still one of the major meats used in dog food, because its one of the most common farmed meats in Australia. And that is good, because if your dog enjoys it in dog food, then its not allergic to the meat. However, as most dog food has a maximum of 40% meat in it and we recommend upwards of 80% meat in a dog's diet, then this iis a great way of supplementing yhour dogs food.
The addition of beef jerky has many purposes. Yes its an occupier treat – one that medium sized (regular jaw pressure) dog breeds, and some more tenacious small dogs, can spend time ripping apart and enjoying the thrill of the natural eating process for them.
It also provides NATURAL 100% meat-based nutrition supplementation.
IT is one of the more structured meat jerkies meaning that in the process of ripping, your dog also gets a good teeth cleaning. And since there are NO carbs in it, no sugar sticks to your dogs teeth, also meaning that it can reduce their mouth smell, after they have eaten it.
DOG TYPE –   While any dog can eat it, mostly the Larger dogs, or at least the bigger chewers can get a better purchase on ripping the treat apart. For smaller dogs the kangaroo jerky smaller piece treats or kangaroo tendons might give a slightly easier chew.  Big dogs can rip into this too, but of course it is only meat, so it wont always last a long time with a big dog – they will just get great nutrition and teeth cleaning instead.
PROS –   Being a basic meat, most dogs who eat dog food wont be allergic to it.  It's a very economical and long-lasting way of getting beef protein into your dog (lasts longer than raw meat).  The treat can be a great occupier treat as well as providing dental hygiene.
CONS –   Very small dogs or senior dogs might have some difficulty in ripping the meat sheet apart. There are plenty of all meat healthy dog treat alternatives that sill give these dogs a chew.
CONCLUSION
If your dog loves beef, the often don't get enough of it in dog food. And dog food doesn't satisfy the primal need or ripping the whole meat sheet apart.