Buy Online Cow Hooves: Healthy Dog Treats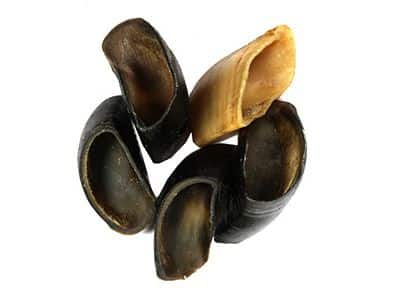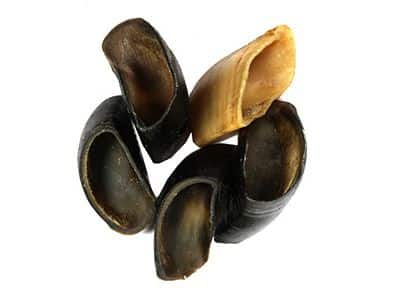 We sell cow hooves as the ultimate long chewer treat. Considered by some to be safer than dried large bones, they are still hard enough to test the strongest chewers.
If your dog easily eats bully sticks and you dont like the potentially fattening nature of pigs ears, then cow hooves might be your best dog treat option.
Raw feeders love them too as they are a 100% animal (beef) based product.  No colouring, additives or anything added to the hooves.  It is cut, cleaned and dried with minimal processing.
You will see that it mainly comes in two colours with most of our stock at the moment being the darker version.  Puppies love to chew on anything, and since very few puppies will have the strength to crack a cow hooves it makes it a great first treat that will last most puppies days if not weeks.
Bigger dogs that have very strong jaws will still usually get very long chew times with these treats, but as always we recommend chewing supervision at least the first few times your dog attempts these treats to ensure safety.
Besides occupying a dog and helping to relive boredom while you are away cow hooves are known as natural teeth cleaning treat helping to remove plaque and tartar while strengthening their jaw and gums (keeping teeth longer).
Cow Hooves/cow hoof dog treat nutrition value
We genuinely believe in providing animal based dog treats and understanding the actual health benefits that each treat will provide your dog. To this end, we have sourced preliminary nutrition data on cow hooves so you can understand if your dog does get to eat the whole hoove, what nutrients it is likely to gain into its body.
The first table shows that from the sample of cows that this paper analyzed, above 90% of the dog treat is crude protein by dry mass.  There is NO crude fibre and it is very low in fat.  This is because its composition and harness are similar to bones but without the fatty marrow.
The two principle elements in it are calcium and phosphorus which are in the right proportion for natural ingestion and the right ratio for aafco table guides.
Cow Hoove, Protein (amino Acid % composition)
| | | |
| --- | --- | --- |
| Amino acids | Unit | Avg |
| Alanine | % protein | 5.1 |
| Arginine | % protein | 9.8 |
| Aspartic acid | % protein | 7.9 |
| Cystine | % protein | 1 |
| Glutamic acid | % protein | 16.4 |
| Glycine | % protein | 6.9 |
| Histidine | % protein | 1.2 |
| Isoleucine | % protein | 4.1 |
| Leucine | % protein | 9.1 |
| Lysine | % protein | 4.8 |
| Methionine | % protein | 2.2 |
| Phenylalanine | % protein | 3.4 |
| Proline | % protein | 6.1 |
| Serine | % protein | 7 |
| Threonine | % protein | 4.8 |
| Tyrosine | % protein | 4.6 |
| Valine | % protein | 5.7 |