Shark Skins dog treats – the great occupier – includes VIDEO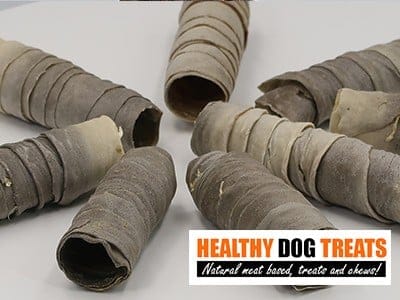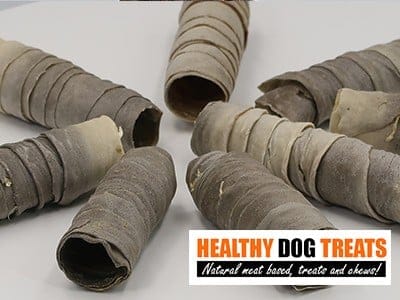 Shark Skins are fish skin dog treats and are particularly useful for people wanting safe long-lasting chewing treats for small to medium sized dogs.
Shark Skins dog treats
As our healthy dog treats flake is from gummy sharks caught in Australian waters, the shark skin we get is typically the by-product of the sharks that are caught for Australian consumer eating, thus subject to strict quota systems.
Shark skins are made similar to other fish skins like Ling and Salmon. Ling and Salmon skins are tightly wrapped into short pen like pieces, making for great longer lasting chewing. Where is shark skins are wrapped around larger rods leaving a hollow cylinder of a dog treat.
Shark Skins have some Omega 3 in them, but I recommend these dog treats for your dog because they provide a natural chewing treat, that are LOW in CALORIES. Thus, they won't make your dog fat.
DOG TYPE
Any dog can eat these, but they are probably most suitable for small to medium sized dogs. They are sufficiently wrapped that mostly medium sized dogs will make short work of them, especially if they like fish. Smaller dogs will have to mostly chew at the ends and eat them all the way down to finish the job.
Pros vs Cons of Shark Skins
PROS
A safe, light, easy eating long chewing treat for small to medium sized dogs.
Big chewing medium sized dogs like staffies will probably make short work of these, but many dogs will be quite satisfied with the time it takes to eat them.
Because they are currently (2019) wrapped around cylinders (are hollow) there are MANY of these per Kg, making them a quite economical treat.
CONS
They won't last as long for big chewing dogs, or big dogs, because they are typically between 5 and 10 cm long, and light.
If you are after an occupier treats for big chewing dogs, please look in our LONG chewing treats category.
CONCLUSION
Fish skins are an up and coming dog treat category. Used mostly for small to medium sized dogs that like fish taste, these a very low caloric treat that means your dog will be occupied eating these treats and won't put on weight.
Your small to medium sized dog will love the relatively long chewing of the shark skin treat!