Shark Cartilage DOG TREATS, Great chewing, teeth cleaning, joint support – Instructional VIDEO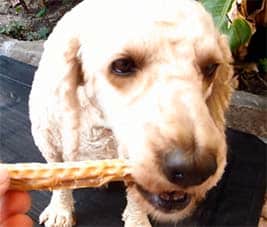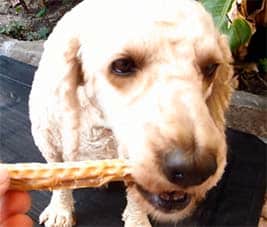 As you will see in this article, shark cartilage has been found to be somewhat of a miracle food for humans and dogs alike.
Besides its great chewing and teeth cleaning properties, there are many vital micro nutrients that your dog just won't get from anywhere else.
If your dog takes too long to chew down a bone, or you are tired of feeding them small raw bones each morning, then this might be the perfect option.
This is a 100% pure shark product. The cartilage is taken from (or still attached to) the vertebrae of the shark.
The treat is not specifically farmed or culled from the shark population. The raw materials are taken from authorised fisheries, which are contracted to harvest, under restricted quota, gummy shark for the human consumption market. Blackdog obtains is materials from product that would otherwise be discarded and disposed of … hence saving waste and making your dog healthy and happy.
A typical shark cartilage analysis (from 'naturepacific', NOT specifically this dog treat product) suggests you may find approximately these nutrients:
Energy  78kj/100g

Protein 44g/100g

Carbohydrates 0.1g/100g

Calcium  18g/100g

Phosphorus        9g/100g

Fat 0.9g/100g

Chondroitinsulphate      4g/100g

Moisture             4g/100g

Copper 2mg/kg

Zinc        50mg/kg
Shark Cartilage is all the rage for humans so why not dogs?
The reason that it has become so popular is that it is a natural source of micro-nutrients: glucosamine, chondroitin sulphate and hyaluronic acid. These are micronutrients that dogs won't easily get naturally elsewhere.
Their purpose is for the" maintenance and repair of joint tissues including joint cartilage, joint fluid, tendons and ligaments, and are also found in skin, hair, nails and the lining of the digestive, respiratory and urogenital tracts."
That aside, just looking at the table shows you that its protein level is much higher than that of regular meat (which is often below 30 %). Carbs are very low, which is good for a dog on a regular manufactured dog food diet. Calcium levels are very high, which is brilliant for taking care of bones. Fat is extremely low, which is great for dogs on a diet.
In the video you will see my 20 kg healthy five year old poodle/cockapoo taking considerable time to chew through each stick of cartilage. With his soft retriever jaw this might look more arduous than you want, but many dogs will eat it much easier.  That said, it is also bound to have some good natural teeth cleaning properties.
So if you are a fan of natural teeth cleaning (ie don't want to manually clean your dog's teeth) and you haven't bought roo tendons yet, perhaps this is a great alternative for you?
Article by Bruce Dwyer. If you wish to use any of this information please refer to the article as a reference and provide a link to our WEBSITE.
Join our FREE Newsletter If you want Super Discount Coupons off our already Discounted Premium Dog Treat Range! Rego Form on our website.
If you would like to view the world of a dog walker and get healthy dog treat specials then please LIKE HDT on Facebook