Chicken BARS dog treat eating guide by Archie & Healthy Dog Treats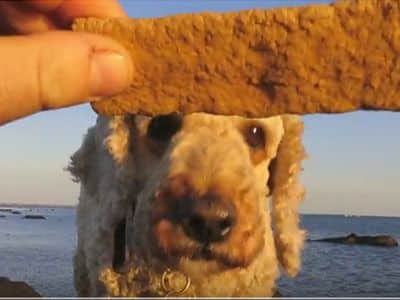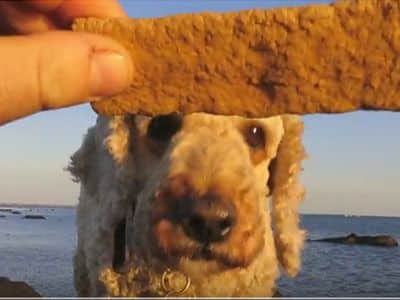 Chicken bars are a very economical HIGH percentage chicken dog treat. A lot of people like little bite sized dog treats and rather than have just more grain, this one has 80% meat.
Chicken bars are a very similar Chicken Crinkles that we still sell (2016). The ingredients list is shown below  and as you will see there are very few additives.
Road testing Chicken bars – the video
The video below shows Archie eating Chicken bars.
As you will see the chicken bars are surprisingly chewy – mostly because they are so high in meat, not just wheat.
The other big thing about these dog treat bars is that you get five in a pack. They are each individually wrapped, and even though they are very chewy they are easy enough for you to break into smaller pieces as required.
Many dog treats are either extremely soft and present no challenge to a dog or are far too hard for the average dog. This chicken based dog treats toe the line between the extremes. Even though they can easily be ripped by a human, their chewiness means a reasonably long chew time, for any dog that can't fit the whole bar in its mouth.
Chicken BAR ingredient and content analysis
Typical analysis: Protein 19%, fat 10%, salt 1.9%, fibre 0.3% 
Ingredients:  Chicken meat, Wheat flour, water, sugar, salt, Potassium Sorbate, colour (124)