Can dogs eat beef jerky with cheap price compared to human treats?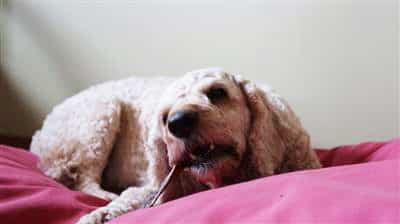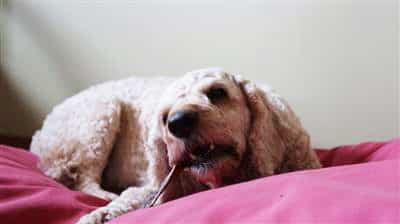 ON a recent visit to a shop, we came across a well presented pack of human Beef Jerky. It was priced at $12 per 85 grams which is the same price they sell it for on the manufacturer's website. This article is not against human jerky, but it raises the point of how good a deal you are getting, even with the sample pack size price.
There is a good chance that this is about the right price in the market for human grade beef jerky, but it begs the question how you as a dog owner can get our beef jerky dog treats so cheap.
| | | | |
| --- | --- | --- | --- |
| | $ | g | $/g |
| Healthy Dog Treats Beef Jerky | 5.95 | 100 | 0.060 |
| Human Beef Jerky | 12 | 85 | 0.141 |
The human grade beef jerky ingredients has:  Topside Beef minus The Fat + Spices (chilli, lemon and garlic). Ours dog treat beef jerky 100% natural
Our Beef Jerky is from an undefined part of the cow, but is 100% cow muscle meat. Not shredded and recombined, but just a dried slab from a full piece of beef meat.  Ironically beef jerky is supposed to be tough, not a melt in your mouth kind of treat, otherwise what ripping and rearing fun is it for a dog.  How does a dog get its teeth cleaned while enjoying a good carnivore shredding? So in fact for dogs, the tougher the piece of 100% beef muscle meat is, the better.
Our Bruce's Healthy Dog Treat Beef Jerky has all of the original fat from the cow because fat reduction processes can harm the quality of the other nutrients, even the core protein. And animal fat doesn't cause cholesterol issues in dogs as it does in humans.
Our beef jerky doesn't have any added spices, because we don't have to disguise the meat flavour to make it attractive to a dog.  Very few dogs are food intolerant or allergic to beef, and only those dogs that have these issues should avoid eating beef, with the amount of fat that comes with the cow.
NATURAL beef fat is what a dog uses for energy.  I am not talking about adding fat to your dog's diet, but unless they have pancreatitis most dogs enjoy beef in its most natural state.t
Bruce's healthy beef jerky dog treat method
That is, our supplier gets meat trucked in cool trucks.  They cut it and dry it, then put it in plastic bags.  There are not additives. No artificial flavours, colours or even preservatives. Because naturally tried beef dog treats last OVER  a year when stored correctly in a human pantry.
I guess the other ironic thing about the human grade beef jerky is that the spices are pretty much the ones that dogs can't have, or don't want to eat.  Never feed chilli to a dog. Lemon is put in squirt bottles by some trainers to discourage dogs from barking, and the jury is still out on whether garlic should be used in dog treats, as while they claim it prevents fleas, it is part of the onion family, and onions are toxic to dogs.
And the best bit of all is that while our beef jerky is 100% beef, the human grade beef jerky is 137 % more expensive per gram than our product (our 100g v 85g human beef jerky).
Now if I was a dog, I would suspect that percentage and their love of our beef jerky would be close to the "meaning of life".