News of the year: Healthy Dog Treats to exhibit at Melbourne DogLOVERS Show
Visit me for Super Dog Show specials at booth 508 upstairs in Melbourne this weekend!
As you know we exist to get healthy meat based dog treats cheaply into your dog's paws.  Our dog treat products are either 80% plus meat or 100% meat or animal products (except for biscuits).
The reason that you will want to visit our booth this weekend (Friday, Saturday, Sunday) is that we will be selling:
1          BULK kilo 100% meat/fish dog treats at prices BELOW our very affordable internet prices, to introduce Melbourne public to our range.
2          We will have a small selection of the small prepacked packets we sell (a much bigger range is available online). Note every small pack we show has a bulk kilo savings version.
3          We bundle the small packs into lots of five (you select which individual treats make up the five) and discount this so the individual prices are also BELOW our very low internet prices.
4          Launch of a new product TUNA JERKY. At the show, we will have these in kilo packs, but back online (after the show) you will be able to purchase these in smaller packs too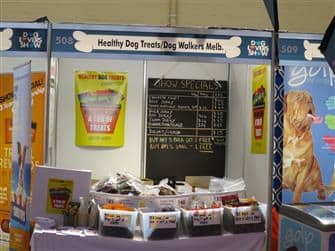 BUCKET OF TREATS PROMOTION
As an enticement to visit our stall, we are giving away a bucket of treats worth over $100 as a show promotion. All a person needs to do is provide their name and email on the promotion form. This gives FREE registration to our fortnightly email discount newsletter. 
As you probably know by now,  we have recently launched a new website and are using a new courier so that 3 Kg of treats now costs only $4.95 postage anywhere in Melbourne, and up to 20 Kg costs a maximum of $10.  There are now less and less reasons NOT to feed your dog healthy dog treats from our online shop!
We look forward to all our regular and new customers seeing us at the show!