Max the golden retriever doing cute goofy things in the park. VIDEO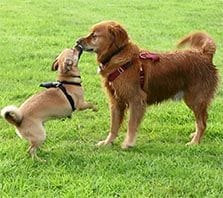 Almost by definition, most people think of golden retrievers as happy and goofy. As a dog walker, we really get to see the differences in their personalities ounce they hit the off lead park.
It is almost universal that they all love water and wallowing in a puddle, However the golden retriever behaviour spectrum is almost as wide as any dog breed out there.

Max is with my dog walking company only once per week. The other times I believe his owner walks him, but not everyone gets the time to take dogs to off lead parks for large unbridled plays, with their very own pack.
One of Max's first main differences is his strength. He is a young male, but built very solidly with muscle. When he wants to drag you on a leash,  you better get ready for a ride.
Fortunately most of the time I spend with Max is with him off lead at the park. He is very social but also a little shy. So he does what any big shy dog does, and tries to bluff his way in play, doing a merry dance to fool his potential pack competitors into believing that he is quite formidable. This means that he often likes facing off against other gentle large dogs like Amy the bernese mountain dog that we currently walk.
You will see in the video only a tiny glimpse of the dance routine he puts together as he often does this in the distance, and not every week. When the dance doesn't work he likes to bark loudly at his potential player.
Rolling in the long grass and getting a back scratch and wallowing muddle puddles are all high on his list and shown in the attached videos. Fortunately he is mostly drip dry and the local puddles don't seem to stick mud too him that much.
We love Max in all his golden retriever dog-gedness  !
Article by Bruce Dwyer. If you wish to use any of this information please refer to the article as a reference and provide a link to www.healthydogtreats.com.au
Join our FREE HEALTHY DOG TREATS Newsletter  for Discount COUPONS. (use rego form top LEFT of this site)

If you would like to view the world of a dog walker and get healthy dog treat specials then please  LIKE HDT on Facebook