Large Pork Twist DOG TREAT eaten entirely by Shine the Rottweiler – VIDEO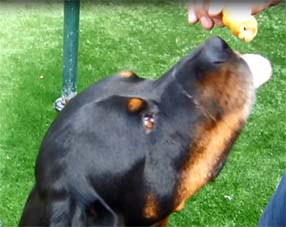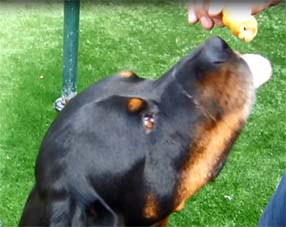 A lot of people may not be aware of the large pork twist and how a dog eats one, so here is a great instructional video for just such a purpose.
The dog leading this lesson is Shine the Rottweiler. He was recruited simply because this chewing task was far too onerous in a short period to give to my dog Archie the spoodle.
That said, this small dog treat still requires substantial chewing, so much so that I had to speed the video up in the centre of it so that you could view it all in one manageable sitting.
What is a blackdog large pork twist?
Basically pork hide rolled into a cylinder. You will find that by weight and chewing time that this dog treat is much greater than most standard pigs ears. The issue for pigs ears are that they are a single relatively flat surface, making it easy for large dogs to get a purchase on them and rip them apart, Hence the reason for the creation of the pork twist.
Large PORK TWIST dog treat – THE VIDEO
In this video you will see Shine eating the pork twist from start to end. In the speeded up parts (times four speed)  his tail is beating like a drumstick.
Throughout the eating process he rarely takes a break giving you a good indication that even with three humans standing nearby, the dog treat really keeps his focus.
This is exactly the kind of treat you want for medium to large dogs to entertain them while you are out. Not too large to spoil their meal, but long enough chewing to keep them from getting bored or quickly getting separation anxiety. Small dogs may end up chewing on this for days!
Now the only question besides how fast can I buy one for my dog should be how long does it take Shine to eat this dog treat. Well, the answer is in the video.
Article by Bruce Dwyer. If you wish to use any of this information please refer to the article as a reference and provide a link to our WEBSITE.
Join our FREE HEALTHY DOG TREATS Newsletter for Discount COUPONS. (use rego form on this site)
If you would like to view the world of a dog walker and get healthy dog treat specials then please  LIKE HDT on Facebook