Meat as Healthy Treats is LIFE for your Dog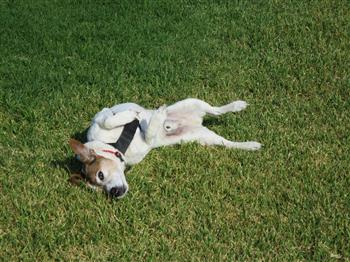 DOG FOOD; The biggest lie of all !
"try offering your dog some vegetables."  She goes on to suggest carrots, brocolli a whole assortment of vegetables should be served to your carnivore dog.
You can get a dog to eat anything if you convince them you like it, but what does that prove?  Ever seen a dog in the wild giving up meat for carrots and peas?  Ever see a wolf give up hunting meat based prey for a carrot? 
Vegetables will give you some minerals and vitamins BUT NOT EVEN ENOUGH TO satisfy the minimum aafco levels.  All they provide is anti oxidants (maybe) lots of filler and some fibre …(fibre that dogs would normally get from eating the whole animal).
Vegetables provide energy, but meat and animal fats provide energy the way the dog wants to digest.
LIE 3:  " Your dog's treats should be easy on their teeth. Skip anything that's hard, like bones, antlers, or hooves."
In the wild dogs eat the whole of the animal and their digestion was designed to do so. Yes dogs have evolved to be smaller, but their digestion didn't evolve to be the same as a humans.
Dogs in the wild eat fur and hoof bits to add fibre to their diet (that is the evolutionary purpose).  Because we have bred some dogs to have exceptionally weak jaws and fragile teeth (teacup breeds etc) some very hard treats are not for every dog.
Most people give a dog a hard treat because they dont walk it enough and they want to stop their furniture being eaten during the puppy years, all good reasons.  But raw bones are an essential part of a raw fed dogs diet to provide natural calcium (not the unnatural sources that many dog food companies use).
Dried large bones are fine too as a healthy dog treat, depending on how ravenous your dog is, can it be trusted not to choke? Alternatives are things like beef and roo jerky, bully sticks and shark cartilage.
Healthy dog treats are always meat based. Just because they cost a retailer or vet more money to bring into the store, and they can't charge you as much, doesn't mean that they aren't better for your dog, on the contrary they are.