Two German Short Haired pinscher VERY excited before a walk .. VIDEO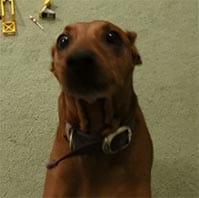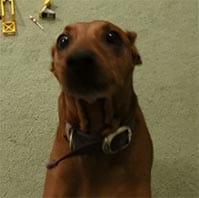 Sometimes I get to walk very sedate young or old dogs. Sometimes they are asleep when I arrive to pick them up. This is clearly not the case with these two VERY high energy German short haired pinschers.
The video takes place mostly in the front child's toy room before we get to the front door.
Good dog walking practice is to make sure that all dogs are very settled before you open the door. You ensure they are in a calm assertive mood etc. Since this would take longer than the walk for these short term clients, all I could do was burn a little bit of their energy before the walk by letting them run rampant in and out of the room until they were perhaps a little more settled.
Sometimes that actually works with some dogs, they get bored or realise they have to settle down before they are going anywhere, but again, not with these two dogs.
This doesn't make them bad, as they were both pretty social dogs, just highly strung and obviously not going to listen to my commands inside the house. In this case the best thing I could do was stand still and not increase their excitement, if that was at all possible.
You can see by the end of the video they begin braying and demanding more of me. They have worked out that I am not going to the door anytime soon, so they intend on bullying me into doing what they demand. This is not an ideal situation for the dogs or the walker, but sometimes you just have to deal with what you have to, to get the job done.
The walk by the way, did calm them both down considerably. Even if it was just to see the outside world and have a sniff of the scents left by other animals on trees and bushes …
Article by Bruce Dwyer. If you wish to use any of this information please refer to the article as a reference and provide a link to www.healthydogtreats.com.au

Join our FREE HEALTHY DOG TREATS Newsletter  for Discount COUPONS. (use rego form top LEFT of this site)
If you would like to view the world of a dog walker and get healthy dog treat specials then please LIKE HDT on Facebook