Chicken breast dog treat VIDEO – how to eat it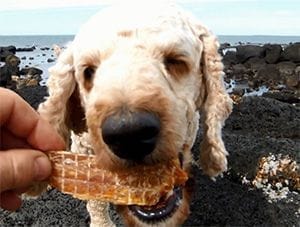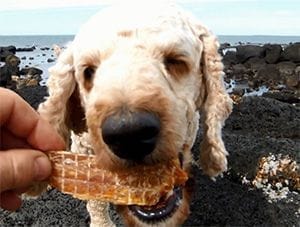 This video shows 'how to eat a chicken breast dog treat'. This might be a seemingly easy task, if you are a dog, but for us human owners, there is some speculation about the size, colour, texture, time taken to eat the chicken breast dog treats etc.
Chicken breast fillets are one of the most popular dog treats I sell at local markets and online. This is probably the dual benefit they have of being the most pure chicken dog treat   and the extremely good value (price and service) .
Note we currently (2019) sell blackdog Chicken and Australian Chicken breast. They are both popular at the moment.

In the video I team the consuming of the chicken breast fillets to some cool jazz. The chicken breasts are eaten in real time to give you an indication of how swiftly a five year old male 20 Kg spoodle / cockapoo takes in eating these.
The first section of the video shows him eating three chicken breasts in succession, then a short break before he consumes another two. During the second course he is also joined impromptu by another dog I walk, a King Charles cavalier called Frodo.
As you will see it takes very little time for Archie to eat these chicken breast fillets, meaning that they are still relatively soft after the drying process so that young or old dogs can enjoy them.
The drying process is performed such that the majority of the original raw chicken breast nutrients are preserved.
In previous articles on this site I extensively go through the nutritional value of chicken in a dog's diet. The source articles can be found here:
Dog Treat Nutrition Article &  Dog Treat Chicken Nutrition
Below are extracts of the nutritional tables showing you how balanced just raw chicken alone can be. (Note these treats are dried chicken)
| | | |
| --- | --- | --- |
| | AFFCO recomm | …Chicken Raw |
| Protein | 180 g/ kg | 374.6 |
| Tryptophan | 1.6 g/kg | 4.2 |
| Threonine | 4.8 g/kg | 15.5 |
| Isoleucine | 3.7 g/Kg | 18.6 |
| Leucine | 5.9 g/kg | 27.2 |
| Lysine | 6.3 g/kg | 30.4 |
| Cystine | 4.3 g/kg | 5.0 |
| Arginine | 5.1 g/kg | 23.6 |
| Histidine | 1.8 g / Kg | 11.0 |
| Tyrosine | 7.3 g/kg | 12.0 |
| Valine | 3.9 g/kg | 18.2 |
AFFCO

recomm

…Chicken Raw

Vitamin A
5000 IU/kg

4106.4

Vitamin E
50 IU/kg

8.5

Thiamin
1 mg/kg

1.5

Riboflavin
2.2mg/kg

0.2

Niacin
11.4mg/kg

200.0

Vitamin B6
1mg/Kg

10.6

Folate
0.18 mg/kg

0.177

Vitamin B12
0.022 mg/kg

0.010

Pantothenic Acid
10 mg/kg

26.6

Choline
1200 mg/kg

133.7
I hope you have enjoyed reading about and watching Archie consume one of his favourite dog treats: chicken breast fillet. If you have any questions about this product please contact me.
Article by Bruce Dwyer. If you wish to use any of this information please refer to the article as a reference and provide a link to our WEBSITE.
If you would like to view the world of a dog walker and get healthy dog treat specials then please LIKE HDT on Facebook