Chicken DISC Dog Treats : An INSTRUCTIONAL VIDEO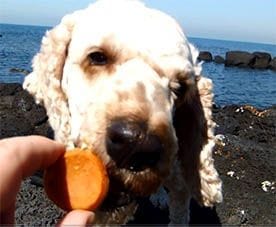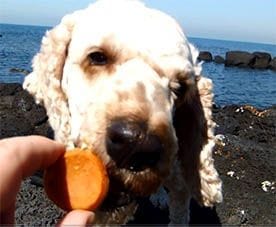 These chicken discs dog treats may look like garden variety dog treats, but they have several major advantages. Besides coming from a trusted source, like all meat based black dog treats they have up to 85% meat in them!
While the VIDEO features my healthy five year old 20 kg cockapoo/ spoodle devouring these healthy meat based treats, you can see how easy the would be for just about any dog to eat.
Sometimes you need long lasting treats, other times you are after a quick and easy treat. The fact is that meat based treats are often expensive, but not with the treats I sell. These are an extremely good value for money dog treat.
The disc is about 4 cm in diameter and quite thin, and easy to snap with your hand if you want to break it down for younger/ older or smaller dogs.
Besides a tiny amount of binder material, these treats have a small amount of human grade colouring added. The reason being that chicken is not normally as yellow, however for some reason much of the public expect chicken treats to be bright yellow, so this treat complies with that.
There are many reasons why you might like to feed your dog chicken discs. Perhaps you don't feed your dog much chicken meat, or you if you feed your dog chicken-based manufactured dog food, you won't be getting much chicken in its meal. Other times it's just nice to have a convenient quick to eat little pick me up a treat when you are out and about.
As you can see from the video these treats break up easily but don't leave a lot of crumbs. This makes them suitable for a lot of indoor feeding too.
Chicken seems to be one of the most universal meats fed to humans and dogs alike, which means that it is also very rarely an allergic issue for them.
These treats are meant as a treat, not a whole meal, but as you can see with their high meat component, they are a very satisfying dog treat.  If you like what you have read or seen on the video, please visit the store on this site (access by the right hand column links.
Article by Bruce Dwyer. If you wish to use any of this information please refer to the article as a reference and provide a link to our WEBSITE.
If you would like to view the world of a dog walker and get healthy dog treat specials then please LIKE HDT on Facebook