Mini Dog biscuits dog treats. Ingredients and road test – VIDEO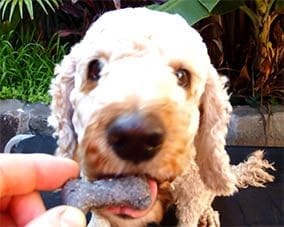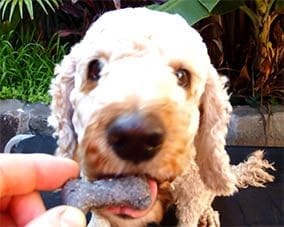 What dog doesnt enjoy a mini dog treat biscuit?
Blackdog make many flavours of biscuits but I have opted for the ones that are meat, dairy or medicinal orientated. Hence on this site you can buy mini biscuits in the flavours of beef, cheese, and charcoal.
We also have big or regular sized biscuits in these flavours AND many other more exotic flavours in our biscuit category, but this video and article are about the MINI biscuits.
it is true that I try to promote people using more meat in their dogs diet, but a lot of time that is just not going to do anything. So if you love grains in your dogs diet (the vast majority of kibble and dog food cans are mainly grain) then adding a little more will probably have very little affect.

The above links take you to the beef small bag, and charcoal 1 kg biscuits. If you want any other varieties, please click on the biscuit category top left of this page.
Where these dog biscuits differ from you home-made variety is that they actually have a bit of dog diet science behind them. Rather than just food and colouring, these biscuits take dog biscuits to the leading edge of dog nutrition. The ingredients include: whole grain wheat (much better than processed), meat meal (for beef biscuits), tallow, sugar, salt, calcium carbonate, flaxseed meal. garlic powder, vitamin, flavour.
The cheese biscuits also contain cheese powder while the charcoal biscuits have charcoal for helping reduce flatulence and aniseed for taste.
While the 200g packs I make up from the large bags are exceptional value, the kilo bags are outstandingly cheap.
If your dog also has arthritis issues, and you are over feeding them expensive Glucosamine tablets, then maybe you should consider the Glucosabics biscuits. These come with an instruction set explaining how many to feed your dog on a per weight basis. So if you are going to feed your dogs a dog biscuit. Make sure its going to be as healthy for them as you can buy.
That is, buy them a Blackdog mini biscuit from this site.
Just ask Archie …
Article by Bruce Dwyer. If you wish to use any of this information please refer to the article as a reference and provide a link to our WEBSITE.
Join our FREE HEALTHY DOG TREATS Newsletter for Discount COUPONS. (use rego on this site)
If you would like to view the world of a dog walker and get healthy dog treat specials then please LIKE HDT on Facebook