Can dogs eat fish skin, sure they can, here are the benefits.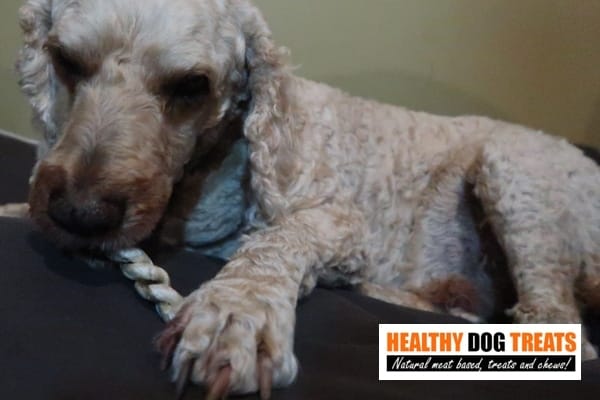 Dogs can eat fish skin
The real question should probably be about what the benefits are. We sell a lot of fish skins, because they are suitable for all sized dogs, and are a great occupier treat for small to medium sized dogs.
Fish skin dog treats offer great chewing, are 100% natural, low KJ and high fibre – kind of the perfect non-fattening long-lasting treats – and we have three types at the moment – LING, Salmon and Shark skins!
Can dogs eat flake and Hoki – YES
People like seafood- or 'fish' dog treats because they are free range (not farmed) and so naturally organic.  They are 100% MEAT typically, and just have a different protein profile to the land-based animals, where some of the amino acids are higher or lower than the other meats. Fish dog treats like land animal meats, are MUCH higher in quality protein than any natural plant matter.
Many types of fish dog treats are very low in fat, making them ideal to dogs on a fat restricted diet.
Surprisingly these seafood questions are typically some of the highest volume searches every month on Google. So people are interested in buy fish treats they just need some reassurance for the first time.
Humans eat flake and sardines, and many people give their dogs canned sardines because they have heard about the Omega 3 benefits. It is true that sardines do have a lot of Omega 3 (GOOD), and a higher level of fat in general than the other fish we sell, but high pressure or temperature 'cooking' of sardines as found in cans, can render their nutrition less than slower dried sardine treats we sell.
The biggest confusion seems to be over the mollusc family. IN particularly
Can dogs eat:  Octopus, squid and calamari.
To answer to these questions, the old axiom that if a human can eat a type of meat a DOG can eat that meat, and profess it much better!
We used to sell Octopus until the supplier stopped production because they said it cost too much to make.  And that is why people have now usually diverted their attention to squid (or calamari).
This is typically a very thin and pliable meat, making it easy for you to cut with scissors to give your dog your exact preferred amount per sitting.
When people ask if …

Can dogs eat Mussels?
People also ask if dogs can eat mussels, but the question should be what mussels are the greatest nutrition and arthritis prevention and maintenance mussels on earth. The answer is Green Lipped mussels for NZ.
They are so prized by humans because of these properties imparted mostly from chondroitin and glucosamine, that the KG packs are fairly high cost, but you can always buy small amounts to start with for this miracle healthy dog treat.
Can dogs eat bones – YES
Under adult human supervision.
We have a lot of dog treat bones available and many owners buy them. Some dogs only chew on the ends, some eat the whole bone. If you are at all concerned that your dog will not chew the bone properly and get it stuck in their throat, then don't buy them.
In a raw dog food diet, bones are the ingredient most used for providing a dog's natural calcium and phosphorus requirements. Btu for most smaller breed companion dogs on raw diets this is provided by chicken necks or chicken wings.
When a dog's digestion is working properly and they have crunched down the bone sufficiently before they swallow any pieces, the high acid stomach content completely dissolves the hard material into powdery forms of Calcium and Phosphorus and ash that are easily digestible.
Again, if you know your dog can crack bones in half, and don't sensibly wait to chew the pieces, it might be better to choose other treats
…
APPENDIX
Some of the CAN MY DOG EAT questions Google searchers have …
can dogs eat lamb kidneys
can dogs eat lamb liver
can dogs eat lambs kidneys
can dogs eat lambs liver
can dogs eat liver
can dogs eat mussels
can dogs eat octopus
can dogs eat offal
can dogs eat pork
can dogs eat pork bones
can dogs eat raw eggs
can dogs eat raw kangaroo meat
can dogs eat raw kidney
can dogs eat raw lamb
can dogs eat raw pork
can dogs eat sardines
can dogs eat shark meat
can dogs eat smoked beef bones
can dogs eat smoked bones
can dogs eat smoked pork bones
can dogs eat squid
can dogs have borage oil
can dogs have cat treats
can dogs have dextrin
can dogs have dextrose
can dogs have human vitamin c
can dogs have octopus
can dogs have smoked bones
can dogs have squid
can i feed my dog egg
can i give dog treats to my cat
can i give my cat dog treats
can i give my dog human vitamins
can i give my dog omega 3 for humans
can puppies eat minced beef
can puppies eat raw beef mince
can puppies have liver treats
can we give glucose powder to dogs
can you feed a dog lambs liver?
can you feed cat treats to dogs
can you feed cats dog treats
can you give a dog cat treats
can you give cat treats to dogs
can you give cats dog treats
can you give dog treats to cats
can you give dogs cat treats