BLITZ the very friendly 12 y.o. Bull mastiff X ridgeback tribute VIDEO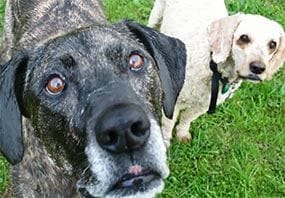 Blitz was not always the free spirit fun loving dog you see in this video. Due to change in the home environment, this bullmastiff x ridgeback had become quite an anti-social dog before I met him as a pro dog walker a few years ago.
Being a borderline dog, but faced with possibly being killed, I thought I would try and bring him back from being chained up and put on anti-depressants by a vet's recommendations.
Without this knowledge you might just consider this dog to be a friendly old dog that has always had a good life, but like many dogs his size, and owners who were time and experience poor with such dogs, were really struggling. This meant the dogs quality of life was rapidly approaching zero before I was contacted to take him out twice a week.
Skip forward several years and this is the result. A shining example to socialisation, and the very high value that regular walks can bring. Fortunately at his age (12) the two off lead walks I was doing with him were just enough of a maintenance mode to stop him reverting to aggressive behaviours. He still needs correction from time to time, but is generally very friendly and definitely not the first aggressor. My pack are completely safe with him in the back of the car, and so are the dogs in the park.
Blitz dog is now one of my favourite dogs, one that I will never fully understand (but that goes for any dog) but one that I can have a strong confidence in him behaving socially in most situations (unless attacked, in which case he will strongly defend until called upon to stop).
In Blitz's case, and from his breed background, he loves nothing better than to roam the large grass plains and explore bushes for prey. He is not obsessive about tracking, and really loves to meet new dogs in the off lead parks with the exact right social energy of exploring and friendship.
None of this background is really evident in the videos, which is exactly what I wanted to show. In this particular video's case, Blitz was taken on a solo off lead dog walk on the weekend with my dog. The entire video was shot in one afternoon, just before the major winter rains came. With the solo experience it was  much easier to keep close to him and keep him interested in staying with 'the pack'.
I think this video aptly demonstrates that you can teach an old dog socialisation, and how friendly this large old dog truly can be, given the chance.
This video is a brief testimonial to the great dog that Blitz is, and what almost all dogs can become, with patience and continual socialisation.
Article by Bruce Dwyer. If you wish to use any of this information please refer to the article as a reference and provide a link to www.healthydogtreats.com.au

Join our FREE HEALTHY DOG TREATS Newsletter  for Discount COUPONS. (use rego form top LEFT of this site)
If you would like to view the world of a dog walker and get healthy dog treat specials then please LIKE HDT on Facebook